The Canine Rehabilitation Center offers a wide range of caring veterinary specialists to aid your pet in his canine rehabilitation therapy.
Dr. Erin Troy, CCRP, CVPP, CBW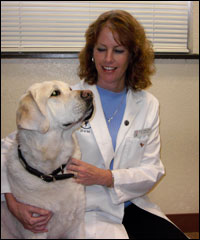 Dr. Erin Troy was raised on a small farm in Contra Costa County. She received her Bachelor's of Science from UC Davis and her Doctorate of Veterinary Medicine from University of Wisconsin. Dr Troy began working at MVH as part of the nursing staff before veterinary school and later returned as an Associate Veterinarian. In 1999 Dr Troy purchased the practice from her mentor Dr. Kennedy, and began The Canine Rehabilitation Center.  Since its creation, Dr. Troy has obtained her Certification as a  Canine Rehabilitation Professional (CCRP) from the University of Tennessee, and is working on her certification in Veterinary Pain Management from the International Veterinary Association of Pain Management.  In addition, Dr Troy values community involvement and she enjoys speaking to groups of all backgrounds. She treasures the connections that she has made with the families with whom she has worked for so many years. Dr

Troy enjoys spending her spare time doing many outdoor activities with her husband John and their dog Buoy.
Dr. Jennifer Yamamoto, CVA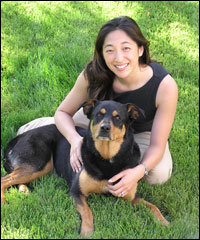 Dr. Jennifer Yamamoto was born and raised in California's Central Valley. She knew from the age of five (when she adopted her first cat) that she wanted to be a veterinarian. After graduating from high school, she completed her bachelor's degree in biology at UCLA and then headed straight to veterinary school at UC Davis. While at UC Davis, Jennifer actively participated in many clubs including the Holistic Medicine Club, Orphan Kitten Program and Fix Our Ferals. Jennifer has been practicing small animal medicine in Contra Costa County since 2002. In 2006, she earned her veterinary acupuncture certification (CVA) through Colorado State University, and she is happy to be able to offer this complementary therapy to her patients at Muller Veterinary Hospital and the Canine Rehabilitation Center. Jennifer lives in Pleasant Hill with her husband Wes, daughters Katherine and Emily, and temperamental feline friend Meow Meow.
Pamela Mulvey DC, CAC
With over 30 years of chiropractic experience, Dr. Pamela Mulvey's practice includes both humans, and large and small animals. She is excited to provide integrated chiropractic care in a veterinary hospital where patients receive the benefit of a team of veterinary care experts, all of whom value communication, education and community.
Originally from the East coast,  Pamela moved to the Bay Area with her family as a teenager. She graduated from the University of California, Berkeley with a Bachelor of Science in Nutritional Science and Dietetics. Her passion for health through nutrition evolved into a desire to master an alternative healing profession. Her education at Palmer College of Chiropractic, West, 
earned her a Doctorate in Chiropractic, 
and she became licensed to practice in California in 1985. 
To broaden her scope of practice to include animals, Dr. Mulvey
 graduated from the Options for Animals College of Animal Chiropractic, and is certified by the International Veterinary Chiropractic Association. In addition, Dr. Mulvey has post graduate training in Behavioral Medicine and 
is a certified yoga teacher. 
Dr. Mulvey
 currently practices and resides in Marin county, and enjoys 
mountain biking and 
hiking 
with her dog, Bindi.
Tracy Pavon, CBW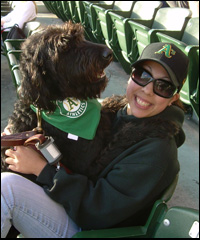 Tracy was born and raised in the Bay area and currently lives in Walnut Creek. She has been with Muller Veterinary Hospital since 2001. She is working toward her goal to become a Registered Veterinary Technician and hopes to be there soon. Tracy has taken and completed the CANINE MASSAGE course through Caninology® and is a certified Canine Body Worker (CBW). Tracy loves working with animals! In her free time she enjoys spending time with her Labradoodle, Lucas D. her Brussels Griffon Jorja, and playing with her frisky cats Diesel and Gracie.