Liberty Belle came to us in July of 2013 after having TPLO surgery on both of her knees because of cruciate ligament tears. As a youngster, she was trained as a search and rescue dog. Her career was cut short when the elbow dysplasia was discovered and surgery was performed, and she was re-homed with her handler's mother.
"Before the surgeries, Liberty could climb a 6 foot ladder as part of her training, as well as running over rubble piles to find live victims of collapse-type disaster scenarios. The surgeries disqualified her chances for FEMA Certification for sear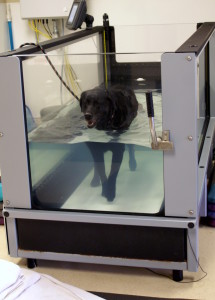 ch and rescue, and her activity level plummeted to just short walks." Liberty's grandma said.
"Liberty loved to go for rides in the car, with her head out the window taking in all the scenery, chasing tennis balls and going for long walks. She was uncomfortable sitting up in the back seat to look out the window. The happy, sweet and active Labrador was not herself. I could look at her before the surgeries, and she would smile because she was so happy. Now you could tell she was depressed and very uncomfortable but wanted to do the things she used to do like chasing a tennis ball." Liberty's grandma said of her time before being rehabbed at the The Canine Rehabilitation Center.
A few months of hydrotherapy, laser treatment and exercises got her back to comfort and playing ball like every lab should. It was later discovered that she has some disc disease in her back, so Dr. Troy has been medically managing and rehabbing that issue too. Liberty continues to come to rehab to keep strong and muscular and manage her chronic joint problems and discomfort, and we are all happy to see her smile again.